Turkey scrambles jets as Syrian choppers near border
July 2, 2012 -- Updated 0929 GMT (1729 HKT)
STORY HIGHLIGHTS
The jets are scrambled three different times, Turkish military officials say
Tensions between the two nations are rising
Syria shot down a Turkish plane on June 22
Istanbul (CNN) -- Turkey scrambled fighter jets three separate times Saturday as Syrian helicopters neared the border between the two countries, Turkey's military said Sunday.
The helicopters were in Syrian airspace, but were getting close to the border, the armed forces statement said.
The jets -- a total of six -- were scrambled twice out of Incirlik, and once out of Batman, it said.
The incident underscores rising tensions between the two nations in the wake of Syria's downing a Turkish F-4 Phantom jet on June 22.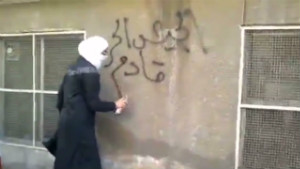 Activists report massacre in Duma, Syria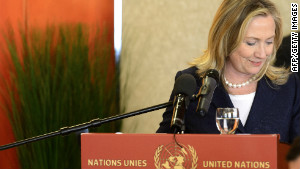 Clinton discusses new agreement on Syria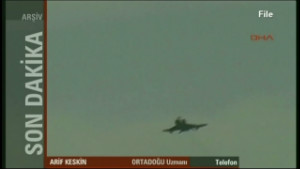 Syria and Turkey: Unsettled neighbors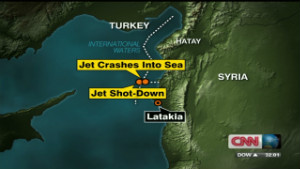 NATO, Turkey slam Syria over downed jet
Turkey deploys troops, tanks to Syrian border
Both Syria and Turkey acknowledged the plane strayed into Syrian airspace, but Turkey said the incursion was accidental and quickly corrected.
Turkey's National Security Council said last week the nation would act against "hostile action" by Syria. Turkey also bolstered its forces along the border.
Also, Turkish Prime Minister Recept Tayyip Erdogan said his country was changing its military rules of engagement and would treat a military approach toward its borders by Syria as a potential threat that "will be dealt with accordingly."
The downing of the jet drew sharp condemnation from NATO, but the alliance did not promise any action in response to the incident. Turkey did not invoke the NATO article calling for collective defense of members, NATO Secretary General Anders Fogh has said.
A senior U.S. official said Turkey asked NATO members to study a range of ways a no-fly zone could potentially help the situation and ease threats. It was "not clear what, if anything, will be done," the official said last week.
A search for the pilots of the downed jet was ongoing. The wreckage of the plane has also not been located.
A man from the border village of Guvecci, who asked not to be named for security reasons, said Thursday military personnel and equipment had been arriving for the past two or three days. Turkish state television also reported air-defense systems and tanks were among the equipment.
Clinton: World may not succeed in Syria
Opinion: Is Turkey moving toward 'hard power' over Syria?
Official: Syria might have thought downed jet was Israeli
CNN's Ivan Watson and Elise Labott contributed to this report.

Part of complete coverage on
Syrian crisis
March 4, 2014 -- Updated 1328 GMT (2128 HKT)

Syria has submitted a revised proposal "that aims to complete the removal of all chemicals" from the country before the end of April.
February 18, 2014 -- Updated 1032 GMT (1832 HKT)

CNN's Arwa Damon reports on ISIS defector who says destroying ISIS as critical as defeating regime.
February 18, 2014 -- Updated 0353 GMT (1153 HKT)

The U.S. wants a United Nations resolution that will, among other things, bring humanitarian aid for refugees in Syria.
February 17, 2014 -- Updated 1259 GMT (2059 HKT)

When the radical Islamist militia ISIS arrived in the Syrian town of Addana a year ago, many welcomed them. What followed changed their minds.
February 17, 2014 -- Updated 1449 GMT (2249 HKT)

CNN obtained video clips from Syrian activists documenting the atrocities committed by members of the Islamic State in Iraq and Syria, known as ISIS.
February 18, 2014 -- Updated 2017 GMT (0417 HKT)

On Crossfire, Danielle Pletka discusses what the U.S. needs to do to resolve the Syria crisis.
February 6, 2014 -- Updated 0101 GMT (0901 HKT)

Her almond-shaped brown eyes shine through her sunken face as a doctor lifts her sweater to reveal a tiny rib cage pushing against her skin.
February 4, 2014 -- Updated 1746 GMT (0146 HKT)

The Zaatari refugee camp in Jordan is home to around 100,000 Syrian refugees. CNN spent several days meeting the residents of the camp.
January 22, 2014 -- Updated 1959 GMT (0359 HKT)

Renowned war crimes prosecutors and forensic experts have found "direct evidence" of "torture and killing" by the Assad regime.

Traumatized children who have witnessed the horrors of war are being helped to read -- and rebuild a normal life. CNN's Becky Anderson reports.
January 23, 2014 -- Updated 1207 GMT (2007 HKT)

A battle zone tour organized by the Syrian government for CNN and several other media outlets Wednesday was more than bizarre.
January 22, 2014 -- Updated 1735 GMT (0135 HKT)

CNN's Atika Shubert meets with the family of a little girl who was wounded in Syria, now living in a refugee camp.
January 27, 2014 -- Updated 1456 GMT (2256 HKT)

110 year old, Jabari Alawali walked for over 10 hours to reach Jordan from Syria.
Today's five most popular stories