Art on the fly: Airport galleries take off
July 4, 2012 -- Updated 1000 GMT (1800 HKT)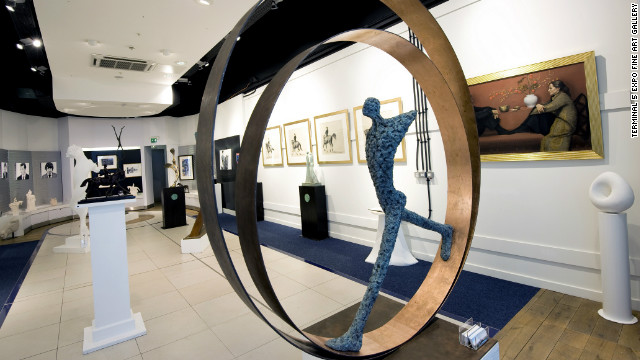 Heathrow Airport in London hosts the Terminal 5 Expo Fine Art Gallery, which aims to exhibit the very best British art during the forthcoming 2012 Olympic Games as well as providing a quiet, contemplative space for travelers.
The Fashion Gallery at Helsinki Vantaa Airport exhibits Finnish clothing brands via an array of detailed photo exhibits. A catwalk installation meanwhile enables travelers to envision a life of glamour on the runway.
A 950 foot long installation by the artist Amy Landesberg is part of the new international terminal at Atlanta's Hartsfield-Jackson Airport. Reported to have cost $1.5 million, the mammoth artwork is one of four pieces designed to ensure the building embodies a bespoke aesthetic style.
Rijksmuseum Schipol is a joint initiative between Rijksmuseum Amsterdam and Schiphol Airport to display the best and most historic Dutch artwork for free. The terminal gallery has housed temporary exhibitions of some of the Rijksmuseum's most illustrious works, including famed pieces by the likes of Rembrandt, d'Hondecoeter and Van Gogh.
Sculptures by Belgian artist William Sweetlove are displayed at Carrasco airport in Montevideo as part of a temporary exhibition in November 2011.
Passengers take in an exhibition by artist Kirsten Thiele as they await their flight at Miami International Airport. The Division of Fine Arts & Cultural Affairs at MIA says its mission is to "humanize and enrich the airport environment" through exhibitions that "communicate culture, environment and art resources of an international scope."
An elaborate Thai sculpture inside the departure area of Bangkok's Suvarnabhumi Airport.
San Francisco International Airport boasts its own museum. An ever-changing schedule (recent exhibitions have displayed Scandinavian ceramics, sewing machines of the 20th century and Vietnamese photography) aims to provide an educational and cultural experience for the 40 million passengers who use the airport annually.
A human-shaped plastic balloon floats in the air above the concourse of Tokyo's Haneda Airport as part of a temporary public art installation in March 2009.
Heathrow Airport, London
Helsinki Vantaa Airport
Hartsfield-Jackson Airport, Atlanta
Schiphol Airport, Amsterdam
Carrasco Airport, Montevideo
Miami International Airport
Suvarnabhumi Airport, Bangkok
San Francisco International Airport
Haneda Airport, Tokyo
STORY HIGHLIGHTS
Galleries and art installations are a common feature of modern terminal buildings
Some airports have art budgets of millions of dollars
Items on display vary from works by local artists to priceless masterpieces
(CNN) -- Busy travelers don't always have time to visit the artistic hotspots in the cities they pass through. But for culture vultures in a hurry, there is another way to experience quality artwork on the fly -- by sampling airport galleries and art installations.
Prominent displays of priceless masterpieces and contemporary craftsmanship are now a common feature of many modern airports.
The new international terminal at Atlanta's Hartsfield-Jackson Airport opened in May this year kitted out with a cool $5 million-worth of artwork and sculptures.
San Francisco International Airport, meanwhile, cooperates with the city's arts council to put on exhibits by artists of local, national and international acclaim in its very own on-site museum.
See also: Airports with art worth seeing
But it's not only U.S. airports that are doubling up as a home for elaborate and extensive exhibits. Locations in Europe and Asia are getting in on the act as well. London's Heathrow Airport hosts the Terminal 5 Expo Fine Art Gallery, which aims to provide a "contemplative space" amidst the bustle of one of the world's busiest airports.
See also: World's best airport restaurants
The departures lounge of Schipol International Airport in Amsterdam meanwhile contains a permanent exhibition by the city's Rijksmuseum, including classic works by the famed Dutch masters of the 17th century "Golden Age," such as Rembrandt.
With the refined sensibilities of the cultured traveler in mind, in the picture gallery above we've compiled a list of airports that have embraced the arts.
Did we miss out your favorite airport galleries or museums? Let us know in the comments section below.

April 24, 2014 -- Updated 0752 GMT (1552 HKT)

Four Seasons Hotels & Resorts is entering the aviation game.
April 11, 2014 -- Updated 0212 GMT (1012 HKT)

Imagine you're a hotel company with a score of brands that seem, well, dated. All the flash amenities of yesteryear seem irrelevant today.
April 8, 2014 -- Updated 0414 GMT (1214 HKT)

The European firm has unveiled how passengers flying on its new A350 XWB might travel.
March 26, 2014 -- Updated 1335 GMT (2135 HKT)

Would you pay to cut in line for the toilets on a flight?
March 5, 2014 -- Updated 0218 GMT (1018 HKT)

Concorde is a thing of the past, but a number of companies are racing to release the first supersonic business jet.
March 3, 2014 -- Updated 0222 GMT (1022 HKT)

Though we're still in the early stages of 2014, it is already proving one of the most expensive years for the travel industry.
March 4, 2014 -- Updated 1715 GMT (0115 HKT)

At $83,200 a night, the Royal Penthouse Suite at Geneva's Hotel President Wilson is the most expensive hotel room in the world.
February 17, 2014 -- Updated 0348 GMT (1148 HKT)

From 'ascending rooms' and mini-bars to pillow menus and iPad-controls, discover the evolution of hotel room amenities.
February 17, 2014 -- Updated 1612 GMT (0012 HKT)

There's a new group of travelers in town -- and it hardly matters which town you're talking about.
February 13, 2014 -- Updated 0457 GMT (1257 HKT)

It's Boeing vs. Airbus as the heavy-weight plane makers face off at the Singapore airshow.
February 10, 2014 -- Updated 0203 GMT (1003 HKT)

How airlines are making in-flight maps more interactive and monetizing them.

Today's five most popular stories