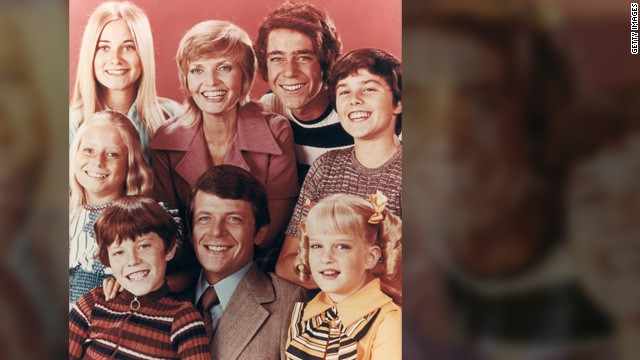 There's a new story of a man named Brady, according to
Deadline Hollywood
, and Vince Vaughn is going to help tell it. The actor is co-developing and executive producing a CBS comedy derived from "The Brady Bunch," which aired on ABC from 1969 to 1974. Reports state that the new version will feature a man, Bobby Brady, who is divorced with his own children, and remarried to a woman with her own children. Unlike the original, the couple will also have a child together and exes who are present in their lives. We're not sure how the original cast feels about the reboot, but we do know what they've been up to:
tell-all book
, "Here's the Story: Surviving Marcia Brady and Finding My True Voice." Her latest role is that of the evil stepmother in "Snow White: A Deadly Summer," which was released in March.
Maureen McCormick, who turns 56 on Sunday, played Marcia Brady. She has since released a country album, appeared on the fifth season of VH1's "Celebrity Fit Club" and written a
Having appeared on TV shows like "Three's Company," "General Hospital" and "According to Jim" since playing Greg Brady in the '70s, Barry Williams, 57, has maintained a presence in Hollywood. He has released a memoir, "Growing Up Brady: I Was a Teenage Greg," and appeared in the 2012 TV movie "Bigfoot," along with fellow '70s heartthrob Danny Bonaduce.
Eve Plumb appeared on several sitcoms after her days as middle child Jan Brady. In 1995, Plumb starred on "Fudge," the TV comedy based on Judy Blume's books. She headed back to the '70s in 1998 to play Jackie Burkhart's (Mila Kunis) mom on "That '70s Show." She had brief stints on both "All My Children" and "Days of Our Lives."
Since playing Peter Brady, Christopher Knight, 54, has had cameos on several TV shows and movies, including the 2009 comedy "Spring Breakdown." Knight has also dabbled in reality TV, starring on VH1's "My Fair Brady" alongside ex-wife Adrianne Curry.
Florence Henderson, 78, played Brady matriarch Carol. She has since appeared on series like "Roseanne" and "Ally McBeal." Like other members of the original cast, she showed up in 1995's "The Brady Bunch Movie." She's hosted "The Florence Henderson Show" on Retirement Living TV and competed on the 11th season of "Dancing with the Stars."
After playing Mike Brady on "The Brady Bunch," Robert Reed appeared in several TV movies and series, such as "Medical Center," "The Boy in the Plastic Bubble" and "Rich Man, Poor Man." Reed died in 1992 at 59.
Everyone's favorite housekeeper, Alice Nelson, was played by Ann B. Davis on the sitcom. The 86-year-old has since appeared in commercials and several stage productions. In the 1995 "Brady Bunch" movie, she played a truck driver, convincing a runaway Jan (Jennifer Elise Cox) to return home.
'The Brady Bunch'
Maureen McCormick
Barry Williams
Eve Plumb
Christopher Knight
Susan Olsen
Mike Lookinland
Florence Henderson
Robert Reed
Ann B. Davis