Residents in Syria's capital 'stuck in the middle' as civil war closes in
September 19, 2012 -- Updated 1235 GMT (2035 HKT)
STORY HIGHLIGHTS
"I am worried sick ... but there is nothing we can do," a woman in Damascus says
Another worries about how to respond to regime or rebel fighters who might stop her
Artillery shells explode just a few miles away from busy city streets
Damascus, Syria (CNN) -- After 18 months of violent unrest, clouds of black smoke suggest conflict is closing in on Syria's capital.
On the streets of Damascus, no one flinches when artillery shells explode just a few miles away. Residents who support neither the government nor the opposition say the situation is out of their control.
"Every day, we are hearing this boom, boom and everything else, but there is life that is going on," said Rama Hamdi, seeking a bit of normalcy at a beauty salon. "I am worried sick about it, but there is nothing we can do."
Jolie visits Syria refugees in Iraq
Despite an abundance of people at an ancient bazaar, several storekeepers say business is down. They said they are afraid to talk on camera, worried about what the government might say and what the rebels might do to them.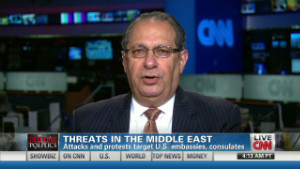 The 'red line' between the U.S. & Syria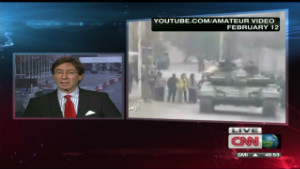 Finding a solution in Syria
When asked about the shelling heard in the background, the storekeepers say they are afraid because they think the war is getting closer.
And they're right. Destruction from when government forces chased the rebel Free Syrian Army lies just a 10-minute drive away.
On many days, the reported death toll from around the capital is far higher than from areas surrounding other cities.
"Nowadays, I cannot go to the countryside without being worried someone will stop me," said Rauda Alaita, the salon owner. "Is it the real army or the other army stopping me? What answer should I answer them with (about) who I am? Now it's really difficult because you are stuck in the middle."
At a news conference under the banner of unity -- and in an array of anything but united -- opposition figures called for talks with the government.
War clouds start of school year in Syria
There is an air of urgency here as speakers discuss how the situation is worse than it was a year ago. They say they need to be united and need to speak with a common voice. Even as these talks are going on, here you can hear a blast in the distance.
But members of the armed opposition, such as the Free Syrian Army, aren't present. They'd be arrested.
The opposition members gathered here are the ones the government tolerates. Some, like Mazen Bilal, know they are powerless.
"We are demanding from the regime ... guarantees for the safety of this opposition to come in," Bilal said, "but we can't impose this on the regime."

Part of complete coverage on
Syrian crisis
March 4, 2014 -- Updated 1328 GMT (2128 HKT)

Syria has submitted a revised proposal "that aims to complete the removal of all chemicals" from the country before the end of April.
February 18, 2014 -- Updated 1032 GMT (1832 HKT)

CNN's Arwa Damon reports on ISIS defector who says destroying ISIS as critical as defeating regime.
February 18, 2014 -- Updated 0353 GMT (1153 HKT)

The U.S. wants a United Nations resolution that will, among other things, bring humanitarian aid for refugees in Syria.
February 17, 2014 -- Updated 1259 GMT (2059 HKT)

When the radical Islamist militia ISIS arrived in the Syrian town of Addana a year ago, many welcomed them. What followed changed their minds.
February 17, 2014 -- Updated 1449 GMT (2249 HKT)

CNN obtained video clips from Syrian activists documenting the atrocities committed by members of the Islamic State in Iraq and Syria, known as ISIS.
February 18, 2014 -- Updated 2017 GMT (0417 HKT)

On Crossfire, Danielle Pletka discusses what the U.S. needs to do to resolve the Syria crisis.
February 6, 2014 -- Updated 0101 GMT (0901 HKT)

Her almond-shaped brown eyes shine through her sunken face as a doctor lifts her sweater to reveal a tiny rib cage pushing against her skin.
February 4, 2014 -- Updated 1746 GMT (0146 HKT)

The Zaatari refugee camp in Jordan is home to around 100,000 Syrian refugees. CNN spent several days meeting the residents of the camp.
January 22, 2014 -- Updated 1959 GMT (0359 HKT)

Renowned war crimes prosecutors and forensic experts have found "direct evidence" of "torture and killing" by the Assad regime.

Traumatized children who have witnessed the horrors of war are being helped to read -- and rebuild a normal life. CNN's Becky Anderson reports.
January 23, 2014 -- Updated 1207 GMT (2007 HKT)

A battle zone tour organized by the Syrian government for CNN and several other media outlets Wednesday was more than bizarre.
January 22, 2014 -- Updated 1735 GMT (0135 HKT)

CNN's Atika Shubert meets with the family of a little girl who was wounded in Syria, now living in a refugee camp.
January 27, 2014 -- Updated 1456 GMT (2256 HKT)

110 year old, Jabari Alawali walked for over 10 hours to reach Jordan from Syria.
Today's five most popular stories